ABOUT GLOBAL SCHOOL OF TECH JURIS
Global School of Tech Juris, Eastern India's Premier Cyber Laws Institute, is a pioneering academic centre for courses and training programs in diverse areas including Cyber Laws, Cyber Forensics, International Intellectual Property Laws, Legal Skills Training, LPO Prep Course and various other customized training programs made available for students, professionals, government departments, law enforcement agencies as well as corporate organizations from diverse industry sectors.
Global School of Tech Juris was initiated in May 2006 in an endeavour to create more awareness and learning opportunities for students of Eastern India where cyber laws, cyber crime investigation and intellectual property awareness were not available at the desired optimum levels.
GSTJ was launched in the presence of luminaries including Hon'ble Justice Altamas Kabir, Supreme Court of India, the Hon'ble Mayor of Kolkata Shri Bikash Ranjan Bhattacharya, Vice Chancellor of Jadavpur University Shri S.K. Sanyal, various business entrepreneurs, members of government departments and law enforcement agencies as well as Kolkata's leading print and television media.
Since its inception, Global School of Tech Juris has received an unprecedented response from almost every industry as well as the large population of students and professionals in the eastern part of India. Currently GSTJ Classroom Programs are only available at our Kolkata Centre and the Classroom Courses have been opted for and successfully undertaken by law students of almost every Law College and University in West Bengal.
Most of the students currently undertaking Certification programs at GSTJ are from the various colleges and universities in West Bengal including Department of Law (Calcutta University), Jogesh Chandra Chaudhari Law College, Surendranath Law College, South Calcutta Law College, Burdwan University, Kalyani University, Sarsuna Law College as well as from a few non-law colleges like Bhawanipur Education Society College.
GSTJ has also launched an innovative and successful Distance Program in Cyber Laws which has been undertaken by students from across the country. Some of our students who have studied the Distance Program include those from very reputed Colleges/Universities like NALSAR University of Law (Hyderabad), Osmania University (Hyderabad), Ch. Charan Singh University (Meerut), University of Mysore (Mysore), Utkal University (Orissa) among many others.
Global School of Tech Juris is also popular for being the only Cyber Laws academic institute in Kolkata to have conducted Cyber Crime Prevention & Tracking and Cyber Forensics Training for various delegates of the Police Training College and the CID in West Bengal.
GSTJ has launched two innovative programs in the form of the International Intellectual Property Laws Program and the Legal Skills Training Program, both of which are pioneering efforts to improve student understanding and make them more employable.
DIGNITARIES TESTIMONIALS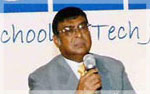 Hon'ble Justice Altamas Kabir
Supreme Court of India

"It is indeed a pleasure to be present at one of the first endeavours, in West Bengal, in setting up an institute of the kind which West Bengal does not have at present. I know Misum Hossain... he has plenty of talent, and has come up with this idea of starting this institute in West Bengal. Today the world has been thrown open because of the Internet and sites, which are accessible to all with basic knowledge of computers. Cyberspace is intangible property belonging to no one yet having its boundaries. It is important for everyone to understand cyber laws. I am extremely happy that Misum Hossain has taken this step. It is encouraging to see so many people present here interested in knowing what this Institute has to offer. I am certain that this will take off and take off in a good way. I wish Misum all the best and I hope that this institute goes on to prosper."
Shri Bikash Ranjan Bhattacharya
Hon'ble Mayor of Kolkata
"The cyber technology is going to touch the sky where we cannot move an inch without the help of the same. But as they say, if the police are master in Criminology, the thieves are PhD in Criminology because they are always ahead of the administration in adopting the criminal aspect of the whole game. The educated criminals are more equipped in the cyberspace due to their affinity with the cyber technology. Therefore the need comes for a person who knows the law and the technology at the same time. And the administration particularly the police will have the best benefit out of this institution. Let GSTJ bloom like a flower."